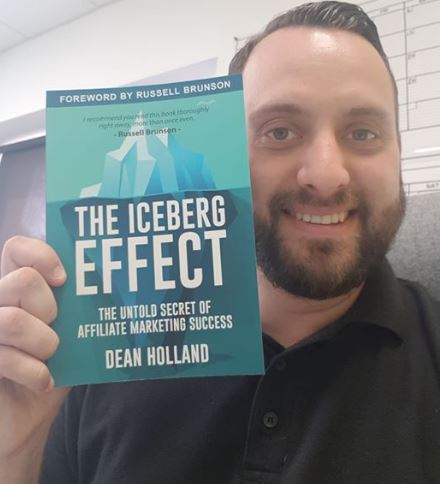 What is the Iceberg Effect?
"The Iceberg Effect – The Untold Secret of Affiliate Marketing Success" is the new business book by Internet Marketer Dean Holland.
Untold riches can be made at affiliate internet marketing. Yet very few succeed, whilst most are left frustrated, overwhelmed and out of pocket.  Why? The Iceberg Effect uncovers the grim reality of affiliate marketing today and reveals what Dean Holland calls "the next generation of affiliate marketing."
Based on his own huge success as an affiliate marketer, Dean outlines in The Iceberg Effect his secret for building a sustainable and highly profitable internet business as an affiliate marketer in today's economy.  Armed with this newfound knowledge you will become an unstoppable force in creating your dream life as an affiliate online.
As Russell Brunson says on the book cover "I recommend you read this book thoroughly right away, more than once even,"
How do I get my copy?
The book is only just being published now.  As soon as it is with the world-wide distributors, I will put a link on this page to the order form.  So please bookmark this page and check back soon.   Or for priority notification and personal order link, just pop your name and email in the form on this page.
How much does it cost?
Dean Holland is actually giving the book away for free, all Dean is asking for is a contribution towards shipping and handling which I understand will be in the region of $6.  (If you are wondering why it is free, you will learn why in Chapter 8.)
Pre-Order "The Iceberg Effect"
Pop your name and email in the form below for priority notification and order link  (no card details required)
Please Note: Due to strict anti-spam laws (which I agree with) please allow me to clarify that upon giving me your email address - you will receive the information that you have requested as well as further promotional emails from me. You can of course opt out at any time - you will find an UNSUBSCRIBE link at the bottom of all my emails. ----