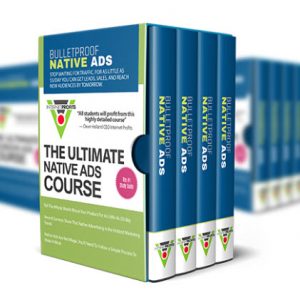 With Native Ads You Can Get Leads, Sales, and Reach New Audiences For as Little as $5/Day 
Native Ads are those Ads you see on many high traffic sites that look like they are part of the content. Hence the name 'Native', and they are very effective.  But there is a process you need to follow. Otherwise you'll be paying for clicks that read your blog posts and leave without doing anything else.
If you want those readers turning into leads and sales, you'll need to change a few things on your site first. Then learn how to to create your content in a way that makes it compelling. And where to spend your money for the best ROI.
The Bulletproof Native Ads course teaches you how to get started with native ads the right way, and grow and scale your business.
Whether you are looking to increase traffic to your own websites, or are offering your services as a consultant to other businesses this course is a must.   continue